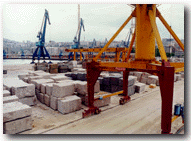 LINKS:
- Asociación gallega de graniteros.
- A.G.P. Asociación Gallega de Pizarristas
- Buildnet.
LEGAL SERVICES AND ADVICE TO THE GRANITE SECTOR
One of the main characteristics of Cortegoso & Co. is its heavy specialisation in legal advice to "ORNAMENTAL STONE" sector and specifically, the "GRANITE SECTOR". It is for this reason that our central office is located close to Porriño, one of the world's most important centres for extraction and elaboration of stone.
Cortegoso & Co. advises the Galician Federation of Granite, which also has its central office in Porriño and which is composed of more than 100 companies dedicated to the elaboration and extraction of granite, as well as to the provision and production of machinery. The Galician Federation of Granite has a turnover of around 50,000 million pesetas and employs 8,000 people. It thereby represents approximately 85 % of the Spanish granite sector and, therefore, causes the Galician granite sector to be considered as being one of the world´s leading producers.